Check out our FREE White Paper:
Target Marketing: Enhancing Your Marketing and Sales Opportunities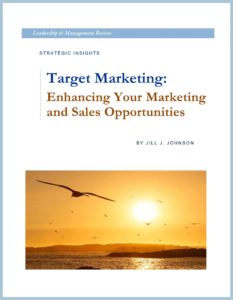 Marketing your organization and enhancing your sales opportunities can be expensive and time consuming. This is even more costly if not strategically developed. You will maximize your effectiveness by focusing on reaching the right customers at the right time in the right ways. This requires a thorough understanding of your target markets to ensure you have effective alignment with your marketing and sales strategies.
Developing effective and profitable target markets requires reliable data and professional data mining. It also requires the discipline to deploy the results throughout your operational, sales and promotional strategies. You have to be willing to capture and capitalize on subtle changes in your target markets before they explode beyond your control or benefit your competition.
In this Executive Briefing, management consultant Jill Johnson shares critical insight on how you can use target marketing strategies. These insights will help you enhance your sales and marketing efforts to develop, deploy, and create marketing strategies that work for your organization.
To obtain this FREE White Paper fill out the information below: